24 May 2023
95 views
Inspiration for Minimalist Home Balconies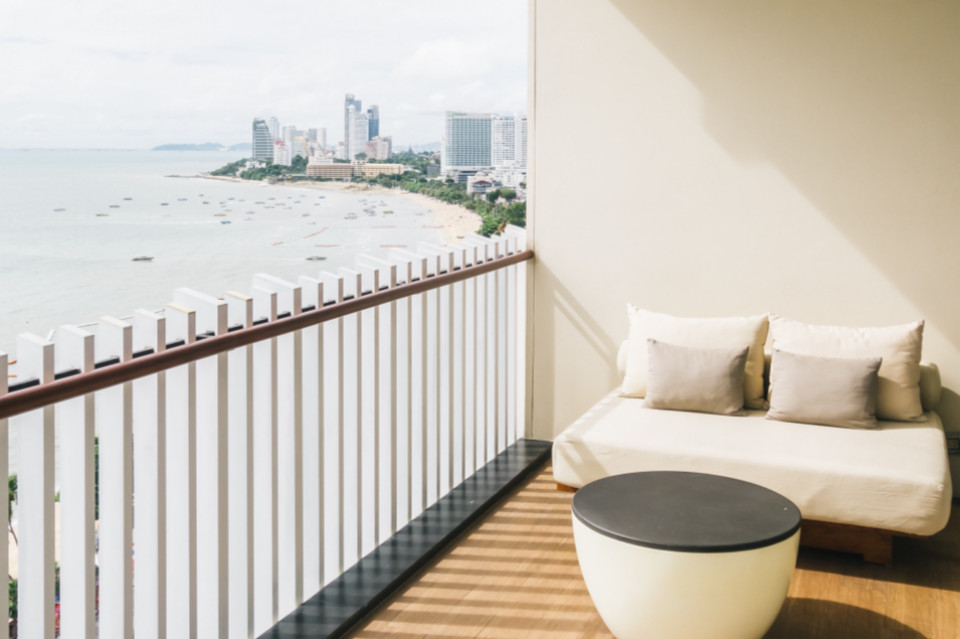 Want to create or renovate your minimalist home balcony? Here are some design inspirations for minimalist home balconies that you can try!

source : freepik.com
The design of a balcony for a minimalist home is not only about making the house look attractive and aesthetic, but it can also serve as a place for relaxation with family or a dining area. Therefore, you need a minimalist balcony design to create a balcony that suits your needs.
A simple tip for creating a comfortable balcony is to choose decorations that match the balcony's design style. It's also important to select multifunctional furniture to save balcony space.
1. Glass Minimalist Balcony
source : freepik.com
Glass is a material often used to enhance the appearance of a home. It can be applied not only inside the house but also on the exterior, such as a glass minimalist balcony.
Creating a glass balcony is an effective way to maximize natural light penetration into the interior of the house. Another advantage is that you can enjoy the surrounding view more optimally.
With a glass balcony, you can admire your home's surroundings without any obstruction from balcony railings.
2. Durable Rattan Accents
source : freepik.com
Rattan is known for its durability and comfort. Therefore, rattan furniture is a suitable choice for your balcony.
The natural brown color of rattan can be combined with harmonious colors. Pastel colors can be used for chair cushions or other ornaments.The natural brown color of rattan will make your balcony feel minimalist, more spacious, and comfortable for your family.
3. Lush and Beautiful Balcony with Plants
sumber : freepik.com
If you enjoy caring for houseplants, you can transform your balcony by using natural ornaments like plants.
You can arrange pots using aesthetic shelving. The furniture colors, such as tables and chairs, can complement the natural theme. Using green and earthy brown colors will make your balcony look naturally beautiful and refreshing.
4. Balcony with Hanging Chairs
source : freepik.com
There are many decorations to choose from to create a unique minimalist balcony, one of which is placing hanging chairs in the corner of the balcony.
Hanging chairs can be used for relaxation while enjoying the view from the upper floor after a day of outdoor activities.
You can also add cushions or blankets to increase comfort on these hanging chairs. Moreover, hanging chairs can be used in balconies of various sizes and concepts.
5. Balcony Design with Long Chairs
source : kontan.co.id
Another minimalist balcony inspiration involves placing long chairs to accommodate seating needs in your home.
You can use this balcony area for relaxing with guests. To create a more comfortable atmosphere, you can add decorations such as indoor plants.You can also add lighting sources like candles to make the balcony look beautiful, especially at night.
6. Minimalist Iron Balcony
source : archify.com
When building a balcony, safety considerations are essential. Choosing the right material is crucial, as using the wrong material can endanger you and your family.
A minimalist iron balcony can be a solution. Constructing a balcony with iron material not only provides extra security but also creates a unique and attractive minimalist balcony.
7. Simple Minimalist Balcony
source : kompas.com
You need to consider the size of the furniture and decorations you will use on the balcony. Don't let the decorations make the balcony look cramped!
8. All-White Balcony
source : kompas.com
Many people are still hesitant to use white as the base color for their room design, fearing it will look dirty. However, using white as the base color for a not-so-large room will give a more spacious and elegant impression.
Selain itu, warna putih adalah warna netral yang bisa memberikan ruang berkreasi kamu lebih luas karena warna putih akan cocok dipadukan dengan warna apa saja. Dengan warna putih contoh balkon rumah minimalis kamu terasa lebih nyaman.
Additionally, white is a neutral color that can be easily combined with other colors. With a white-themed minimalist balcony, your space will feel more comfortable.
Those are some design inspirations for a minimalist home balcony that you can try. We hope you find them useful!